Expedite progress – think in the future, become estranged from the now.
EBIC - Excellent Batch Image Converter
Ye olde AppleScript frontend to sips
About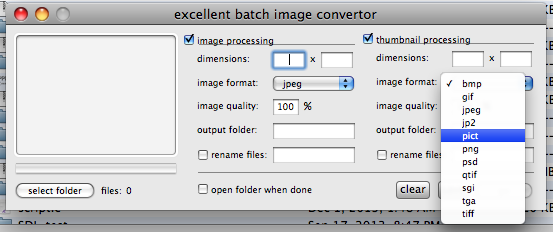 EBIC, or Excellent Batch Image Converter, is an AppleScript frontend to the sips program for converting/resizing large batches of images. It has been released under the GPLv3, although the code is certainly less than ideal.
EBIC was created for fulfilling a need that seemed to be lacking in most available solutions for a minimalistic batch image converter for OS X, at least at the time I created it (2011/02/15). The UI is a bit more obtruse than I would like it to be, however it should be fairly forthcoming as to what does what.
Features
Convert images to whatever slip supports!
Resize images to whatever dimensions you like - with aspect ratio maintained!
Optionally rename output files!
Also process thumbnails, for galleries and the like!
Progress bar, file count, and image viewer to see which file you're on!
All configurations are saved in the .app bundle's Info.plist - maximum portability!